Supplement, Wheelers
All the electric sports cars coming soon
---
Built in 1899, the La Jamais Contente was a bullet-shaped prototype powered by a pair of electric motors that zapped the rear wheels into motion. The electric sports car's future looked bright but it was quickly overshadowed by models equipped with an internal combustion engine. Over 120 years later, electricity is again being glorified as the key that will unlock the next level of driving performance.
However, cars need more than a jaw-dropping 0-62mph time (which is reasonably easy to achieve with an electric powertrain) to qualify for the coveted performance label. Their ultra-quick acceleration must be repeatable without sending the powertrain into limp mode and they have to handle well in spite of lugging around a monstrous battery. Manufacturers involved in racing also need to ensure their EVs can handle abuse on the track.
All told, making an electric sports car is considerably more difficult than building one with cylinders. Here are the manufacturers conquering this challenge:
Aspark Owl
This oddly named hypercar was unveiled by a Japanese start-up in Dubai and scheduled to enter production in Italy in 2020. Its four motors draw electricity from a 64kWh battery pack to generate 1985bhp, which is enough for a 1.69sec 0-60mph time.
Carbonfibre partially offsets the battery's mass and helps lower the Owl's weight to 1900kg. Enthusiast who want to bag one of the 50 examples planned need to send Aspark a non-refundable £42,000 deposit and this big commitment likely explains why it's not sold out yet.
Base range: 280 miles
Base price: £2.5 million
Available: 2020
Audi E-Tron GT
After planting its flag in the electric SUV segment, Audi is gearing up to release its first battery-powered saloon. It will arrive as a toned-down version of the E-Tron GT concept introduced at the 2018 Los Angeles motor show, meaning it will be related to the Porsche Taycan under the sheet metal. Autocar learned it will be available in regular, S and RS trims, a strategy which mirrors how the company markets petrol-powered cars like the A6, but its final specifications might not mirror the Porsche's.
We'll know precisely how much the E-Tron GT shares with the Taycan when it makes its debut at the 2020 edition of the Los Angeles show. Deliveries will begin in early 2021. PICTURE: Autocar artist impression
Base range: TBD
Base price: TBD
Available: 2021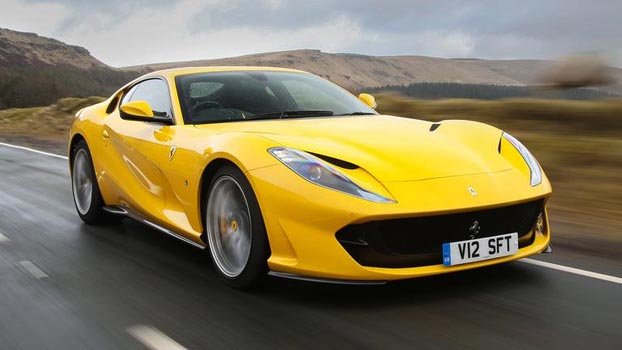 Ferrari EV
Technical sketches newly leaked from a patent office shed light on how Ferrari plans to enter the electric car class. While the drivetrain's output remains a mystery in spite of endless rumours and speculation, the blueprints suggest the firm's first EV will offer four-wheel drive by assigning an electric motor to each wheel. It will either arrive as a two-seater or with a 2+2 layout and it's expected to take the form of a low-slung coupe with 812 Superfast-like proportions.
Several hurdles stand in the way of Ferrari's electric model. Engineers need to cancel out the weight added by the battery pack while ensuring it nonetheless delivers adequate range, even when the car is driven spiritedly for hours on end. And, they're still figuring out how to substitute Ferrari's oh-so-typical exhaust note. All told, don't expect the Italian firm to throw its hat in the electric car ring until 2025 at the earliest. PICTURE: 812 Superfast
Base range: TBD
Base price: TBD
Available: 2025
Genesis Essentia
Hyundai-owned Genesis quickly elbowed its way into the upper echelons of the automotive industry. In 2018, two years after it launched its first standalone model, it took the wraps off a gorgeous electric GT named Essentia (pictured) at the New York motor show and hinted it previewed a production model.
It teased the coupe again in 2019 when it unveiled the GV80, its first SUV. It stopped short of providing concrete details such as launch timing and a horsepower figure but Hyundai's investment in Rimac could help Genesis splice Croatian and South Korean genes to create a one-of-a-kind performance EV.
Base range: TBD
Base price: TBD
Available: TBD
Honda Sports EV
Honda confirmed the platform it developed for the E city car will underpin a full range of electric models in the 2020s and one of them will likely draw inspiration from the 2017 Sports EV concept (pictured). Patent images discovered in 2019 suggest the coupe will arrive in showrooms with an updated design and a silhouette reminiscent of a mid-engined car.
Executives haven't publicly confirmed the concept will spawn a production model; officially, they're keeping an eye on demand before making a decision.
Base range: TBD
Base price: TBD
Available: TBD