Supplement, Bon Appetit
It's all about Tastebud
---
Tastebud is a popular place with a mere thought of gathering food lovers from both palates with mouthful of happiness. This is a great vibrant place to hang out with friends and close ones, enjoy music as you sip your favourite drinks with scrumptious array of food to make you go crazy.
Athban Yusuf, one of the owners of Tastebud said, "It all happened in a spur of moment from our passion for serving Dhaka people delicious foods. It had indeed been challenging but it has been a blissful journey till now full of beautiful memories. Our philosophy, fostered through our team, guides us as we execute our mission to deliver a unique experience with the highest quality foods and service".
Tastebud serve scrumptious foods and delectable desserts. The menu comprises of globally-inspired comfort food with an eclectic twist. The array includes salads, poutines, sandwich and burgers, pizzas and pastas, desserts and milkshakes.
They are specialized in making customized birthday, wedding, baby shower or even a "just-because" cake into a magnificent reality. Their team of talented cake artists has the ability to turn delicious cake into works of art.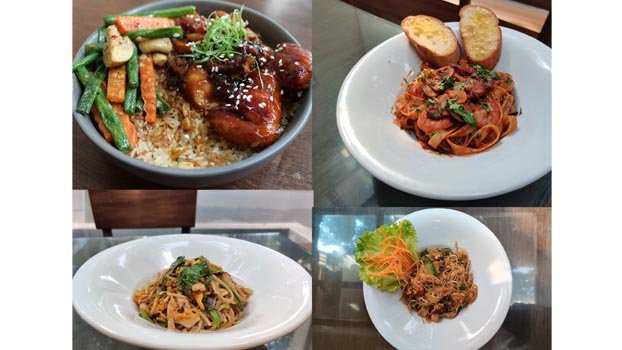 "Customized cakes are perfect for any occasion or age. From kids' birthday parties to corporate celebrations, we've created a variety of fun and elegant specially made cakes and we can't wait to make one for you," Athban added.
I tried a variety of appetizers, gradually leading to finger licking starters, ravishing main course and gluttonous desserts. To begin, picked up Chicken Cashew Nut Salad (BDT 320) and Cream of Mushroom Soup (BDT 290). Chicken Cashew Nut Salad has a slightly sweet, tangy dressing, and is loaded with strips of chicken, mixed with cashew nuts, onion and crunchy veggies while Cream of Mushroom Soup has a creamy and light mixture of fresh mushroom, celery, carrots prepared in Italian style.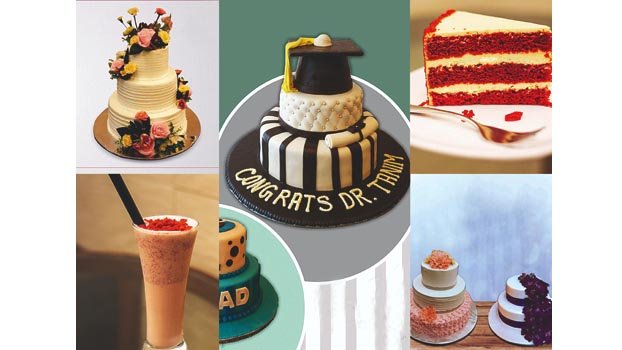 Mixed Platter (BDT 590) is perfect for two. It consists of 4 fried prawns, 4 buffalo wings and Bruschetta Basillica. The prawns were deep fried and are juicy on the inside and super crispy on the outside. The wings are exactly what they claim to be. DELICIOUS! Tossed in a delicious Buffalo Sauce, these wings are a hit and all time favourite! Bruschetta Basillica was refreshing and delicious.
Poutine (BDT 380) has the perfectly cut long and thin French fries with overload of cheese curds and hot beefy gravy ladled over the top tastes perfect. The tenderly rolled Chicken Roulade (BDT 490) consists of chicken breasts drizzled with Parmesan cheese, stuffed with celery and carrots, rolled up, browned, roasted, then served sliced, with a creamy white sauce.
I was so full but, there is always room for desserts. Red Velvet Slice (BDT 270) is the absolute winner of the show. Just lovedddd it! The cake was fluffy, soft, buttery and moist with the most perfect velvet texture. Highly recommended! Red Velvet Milkshake (BDT 230) is a thick and creamy cake-in-a-cup. Both the cake and shake is my favorite among all. The dramatic red color, and decadent cream cheese layers is just drooling. Tastebud provides a fine dine experience where both foods and desserts are excellent, service is great and space is inspiring, to make your visit satisfying and comfortable.
Place – Tastebud, House 52, Road 12A, Block H, Banani, Dhaka 1213
Pocket Pinch – BDT 1000 for two (approx)
Opening Hours – 8am to 12am (Everyday)