Supplement, Wheelers
HAVAL H9: The new SUV in town
---
Mamanul Haque Onik
When we think about an SUV to buy in southern Asia, even some years before we don't really used to have an only option without Land Cruiser. This SUV has the largest sales all over the world from decades. And in Bangladesh, we don't have the western SUVs like Chevrolet, Infiniti, Cadillac, or GMC. So those people who have that much money to buy a brand new Land Cruiser or Pajero, have to spend around BDT 5-8 crore at a time. Otherwise, there's always the option for reconditioned SUVs. But believe me, there won't be that feeling!
Now, what I'm going to share is the better option without spending a lot amount of money for Toyota or Lexus SUVs. It is Haval H9. This car is designed by former chief designer of BMW Pierre Leclercq on Toyota's Land Cruiser Prado platform and engineered by former chief engineer of Lexus-Toyota Suguya Fukusato in a $2B high-tech R&D center near Beijing.
Haval is one of the specialist manufacturers of SUVs and has been one of the best SUV brands in the world's largest automotive market for over the past 14 years. With over 3 million customers, last year the automobile manufacturer was the world's 10th largest SUV manufacturer outselling Mercedes and BMW SUVs.
---
Specs
2.0 double VVT turbocharged 4-
cylinder petrol, 215 HP and 236 lb-ft
6-speed auto with paddle shift, 4WD
Double wishbone front and
multi-link rear
Fashionable Sporting Side Steps
Vertical LED rear lamps
Large space of 7-seat SUV
French double stitches
Safety and Mobility
8 airbags, ABS with EBD and brake assist, ESP, traction control, roll movement intervention, tyre pressure monitoring system, hill descent control with auto hold and all-terrain control system.
Features
Multi-function heated power front seats, triple-zone automatic air conditioning with air purifier, multi-function steering wheel, 8-inch infotainment system with USB, AUX, CD and DVD rear seat entertainment.
Price
BDT 60-70 lakh (depends on options)
---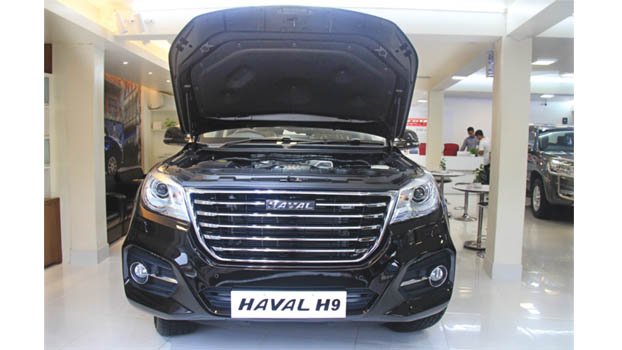 The H9 is a full-size SUV produced by Haval, a sub-brand of Great Wall Motors debuted on the Beijing Auto Show and commenced production in November 2014. This SUV is the largest vehicle ever developed by Great Wall Motors with the drive train being a new all-wheel drive system. It is also the second brand new SUV with a body-on-frame chassis developed by Haval, following the Haval H3 and Haval H5.
The H9 is the biggest SUV in the Haval range and offers full-time four-wheel drive with low-range, and the sort of luxury appointments. This SUV is a reasonable purchase in the 7-seater SUV segment, but people always are reluctant to pay tens of thousands of takas for something that is relatively new on the market. It combines luxury materials throughout, outstanding fit and finish, leading technologies, space and attention to provide a tranquil and comfortable experience for driver and passengers. It is also a supremely capable off-roader to take you off the beaten track and beyond.
Haval has been in Bangladesh for more than 10 years now and continues to grow in recognition. The H9 has two major advantages. Like the price is competitive and equipment levels are unmatched for the price range. If you need a 7-seater with good off-road ability, then the H9 is a cost-effective feature-packed option.
For roads, the most important thing is safety. The safety package of this SUV includes a strong frame incorporating a high performance safety shell, head protecting airbags for all three seating rows, a tyre pressure monitoring system and driver fatigue warning system.
The vehicle looks very good inside and out, it's comfortable to ride in off-road and it's properly capable when the going gets rough. As a town car, it's good with more kit than one could poke a stick at. If Haval keeps tweaking then soon it will be a perfect SUV for our country.