National, Front Page
Govt able to implement proposed budget: PM
---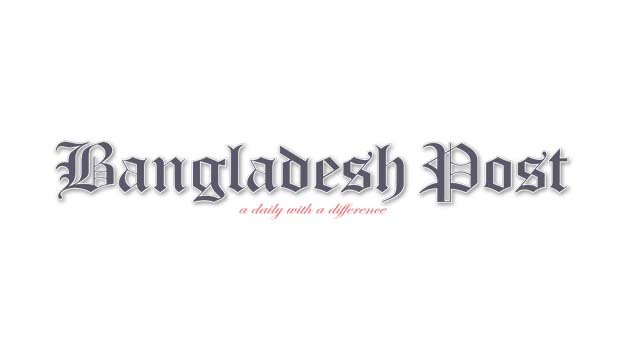 Prime Minister Sheikh Hasina on Sunday said that her government will be able to implement the Taka 761,785-crore national budget for fiscal year 2023-24 as they have shown their capacity earlier.
"We've placed the biggest size of national budget in the history of the country and we are determined to implement this budget. We can implement it and the Awami League can do it," she said.
The Premier said this while addressing the commissioning ceremony of the new intercity train "Chilahati Express" on the Chilahati-Dhaka-Chilahati route.
Virtually joining the event, which was held at Chilahati Railway Station in Nilphamari, from her official residence Ganabhaban, she said that many people would say many things (about this budget), but "we, Awami League (AL), know about this country's wellbeing and its people also".
In 2006 during the BNP regime, the size of the budget was only Taka 61,000 crore, Sheikh Hasina said, adding, "But our government unveiled a Taka 761,785-crore national budget on June 1 last.
She said that a group of people are availing the option of several number of televisions, which licenses were given to the private sector by the AL government, always criticise whatever the government does and find "but" (flaws) there, sitting in air-conditioned rooms.
They also spread some words to disappoint the people and talk against Bangladesh before the foreigners, she said, adding, "But what they get from it, I don't know, they may collect some hadia (money) which actually I can't say, they get satisfaction talking against Bangladesh".
About the people who used to say that it is not possible for the government to implement after placing the national budget every year, she said the government does it and shows it through implementation.
"I want to say to these types of people that please keep in mind what you said last year and where today's Bangladesh has come from, please calculate and compare it," she added.
Sheikh Hasina said that the price of each product across the globe has been raised due to the Covid-19 pandemic, the Ukraine-Russia War and sanction-counter sanctions.
She said that prices of fuel oil, gas, food stuff, wheat, sugar and everything that Bangladesh is importing from other countries, have been increased along with the hike in transportation costs, which is mounting pressure on the country's economy.
"We've taken some initiatives to tackle the situation," she added.
At the ceremony, the Premier flagged off the "Chilahati Express" which will run on the route six days a week. The capacity of the intercity train is 800 passengers.
Chilahati Railway Station is an important intersection in Nilphamari district as the Haldibari-Chilahati route was revived to resume rail communication between Bangladesh and India. Alongside goods-laden wagons, the inter-country Mitali Express is running on this route.
Principal Secretary M Tofazzel Hossain Miah moderated the ceremony, while railway secretary Dr. Md. Humayun Kabir delivered a welcome address. Railways Minister Md. Nurul Islam Sujan, MP, also spoke on the occasion.
A video documentary on the Bangladesh Railway (BR) was screened.
Since 2009 after assuming power, the Awami League government in the last 14 years has installed a total of 740km of new railway track, while converted 280km of rail track into dual-gauge and rehabilitated 1308km of rail track.
During the period, a total of 114 locomotives were collected for the Bangladesh Railway (BR) along with 623 new passenger carriages and 516 goods-carrying wagons.
In addition, the signalling systems of 130 railway stations have been modernised.
Now, 142 new trains are running for passengers' movement.
The Prime Minister said that her government has made a commitment to give cent percent of electricity and they have given electricity to every house, but today, power generation is being disrupted due to rising prices of gas-oil-coal all over the world. "It is not possible to buy (gas-oil-coal) even with money."
"For which, I know people are facing a few problems this summer," she said, adding that "On the one hand, inflation and on the other hand, load shedding- the people of my country are suffering from these two problems."
Sheikh Hasina realised that if anyone becomes habituated with an electric fan, it will be more difficult for them when they don't get it. "This is also true. We are habituated to it, but it is not available now. . ."
If there was no war and no sanctions, the country would not have faced any difficulty," she said, adding that "We could have taken the country forward. Today, because of the war, every country in the world is suffering."
The Premier said Bangladesh has not yet fallen into a predicament, and InshAllah, the country will not witness such a situation.
"But, the people of our country have to do one thing, as I am saying again and again: we have to cultivate all the uncultivated land we have. Production should be increased. We have to cultivate fish in all the water bodies we have," she said.
Regarding the development of the country's northern region, Sheikh Hasina said that there was no tea production in this region, but the Awami League government, with the initiative of her, started tea cultivation there and now vast areas, from Panchagarh to Kurigram, have been brought under tea cultivation.
She said that her government has arranged multi-diverse employment opportunities for the people of the northern region.
About rail communication, the head of government noted that the train is the transport of ordinary people and they mostly use it.
Through the commissioning of this "Chilahati Express" on the Chilahati-Dhaka-Chilahati route, she said, good opportunities for trade and business in the northern region, especially Nilphamari, will begin.
"It will not only bring scope for people's movement, but also boost opportunities for trade and business," she opined.
The Prime Minister urged people to use the train carefully, take care of it and keep it clean.
She said that the government is expanding the rail network across the country and it has a plan to introduce rail communication to Barisal from Bhanga after the opening of rail on the Padma Bridge.
"People of Barisal didn't see rail. So, we also have to plan to establish rail connectivity from Barisal to Payra port," she added.
Sheikh Hasina said that in 1996, assuming power after 21 years, her government revived all the rail communication that was stopped earlier by the BNP and other governments.
In this regard, she mentioned that in her endeavour rail track has been incorporated into the Bangabandhu Jamuna Bridge, which was not included earlier.
"Now, we are constructing a separate rail bridge on the Jamuna River. Once the World Bank opposed rail track on Bangabandhu Jamuna Bridge, now they are financing constructing the rail bridge on the river," she said.
The Prime Minister said that her government has taken initiative to collect 46 new broad-gauge locomotives, 460 new broad-gauge passengers' carriages, 150 new metre-gauge passenger carriages, 125 modern luggage vans and 1310 new wagons to provide passenger services and goods transportation as well as multipurpose use of rail.
In addition, rehabilitation works of 200 passenger carriages are going on, she said.
"I believe that railway service will step into a new era within 3/4 years with these new locomotives, passengers' carriages and wagons and people will get results while trade and businesses will be boosted," she hoped.
Sheikh Hasina urged the people of the country to be aware and cautious as people walk on rail track using mobile phones or try to cross the rail track even after the gate was closed.
Referring to the horrific rail accident in India on Saturday that left 288 people, she said such an accident doesn't take place usually.
The Premier said that she had sent a letter to her Indian counterpart Norendra Modi on behalf of the government and people of Bangladesh, conveying condolences.
"It is really very sad", she said, adding two Bangladeshis were injured in the train accident.