Resources
Five Places Around Dhaka for Day Trip
---
COVID-19 lockdown has made us lazy and cynical. We should go for a holiday to reduce stress and soothe our minds. But our busy schedule barely helps us to go on long vacations. Many of us stop visiting tourist spots due to their excessive prices. However, we can still schedule day trips on the weekend.
Being a resident of Dhaka, it is tough for us to get out of the city for a day tour and return within the same day. But fortunately, there are some incredible places very close to Dhaka, and it is possible to make a day tour. Depending upon the location, it could be from 6 hours to 15 hours.
The Covid-19 pandemic is far from over. If you are looking for suggestions to go somewhere to take a breather, here is a list of 5 affordable places close to Dhaka where you could go with your family for a day-long tour while maintaining the health guidelines. Do not forget to wear a mask carry a hand sanitizer.
1. Panam Nagor (Panam City)
If you have a passion for historical places, don't miss Panam Nagor, one of the most viewable tourist places near Dhaka. Established in Sonargaon, Panam Nagor was the capital of Emperor Isa Khan. At the same time, it was the historical place of Baro Bhuiyans. During the British Empire, the traders lived in and ran businesses from Panam Nagar. Presently, the city's 20 percent is in Sonargaon, and the rest 80 percent is in Narayanganj District in Dhaka Division.
The old building of several centuries will astonish you. You can't imagine how the time will end watching the historic building, the historic city of 100's destructed town in the world. World Monument Fund 2006 declares this lost city in the world's most significant landmark.
Why should we visit Panam Nagar with family and friends?
Panam Nagar could be a perfect place for a friend or family tour, with enchanting beauty. It is within a limited budget and only 27km away from Dhaka. This place is so mesmerizing that it will be your worth remembering experience in your lifetime.
Then again, the Meghna river is very close to this city. You can also visit this fantastic river if you want and get the time. Besides, Sonargaon Folk Museum is only 1km away from Panam Nagor. You can spend an entire day visiting the city, along with the Sonargaon Folk-arts and Crafts Museum, Goaldi Mosque, and the other attractions of Sonargaon.
How to reach Panam Nagar?
This journey can take approximately 1 hour 30 minutes. First, reach Gulistan, then get the bus from the Gulistan for Mograpara Bus Station, including Sonargaon Paribahan. It will drop you at Mograpara point near Sonargaon mosque, from where you can reach Panam Nagar by hiring a battery-driven auto-rickshaw which will take you to Panam Nagar within 10/15 minutes.
What are the Visiting Hours in Panam Nagar?
The opening hours of Panam Nagar change twice every year in summer and winter. It opens and closes one hour early during winter. However, Panam Nagar's off day remains the same throughout the year. Panam Nagar remains closed on Sundays and during any govt. Holidays.
Panam Nagar opening hours during Summer (April to September)
Tuesday – Saturday: 10.00 AM – 06.00 PM
Monday: 02.30 PM – 06.00 PM
Panam Nagar opening hours during Winter (October to March)
Tuesday – Saturday: 09.00 AM – 05.00 PM
Monday: 01.30 PM – 05.00 PM
Ticket prices of Panam Nagor
For the citizens of Bangladesh: 15 BDT
For SAARC country citizens: 100 BDT
For other foreign visitors: 100 BDT
2. Moinot Ghat Beach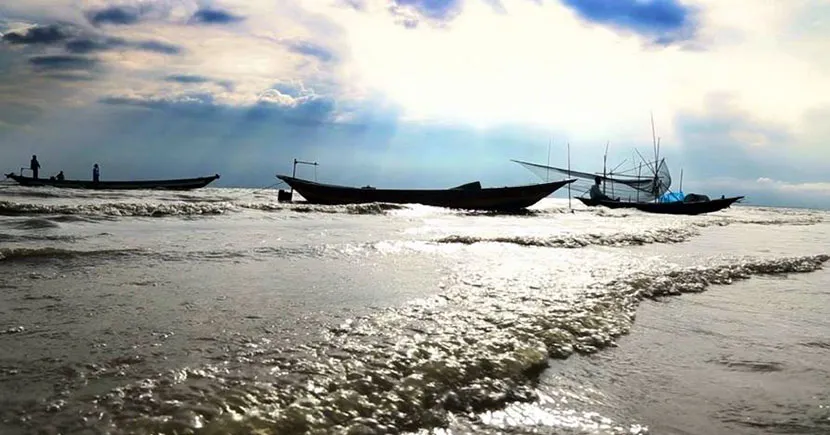 You are a Thalassophile, namely a beach lover, but you can't go immediately to Cox's Bazar or Kuakata sea beach, then Moinot Ghat Beach is probably the best option for you. Moinot Ghat Beach, located on the bank of Padma River, is famous as "Mini Cox's Bazar''. All the mesmerizing river scenarios and every other detail of the Padma River will make you feel that instead of being in a part of Dhaka, you are visiting some part of Cox's Bazar. This place falls under Dohar in the Dhaka district.
Moinot Ghat offers you the appealing beauty of the Padma River. The fisherman on the river and the surrounding area will bring some thrilling moments here. Here you can enjoy freshly cooked Hilsa fish; it is a perfect place to take the real taste of fresh Hilsa fish. A boat ride across the waves of the Padma in the afternoon can offer you adventurous moments. And, the spellbinding sunset scenes would make your day trip more memorable for years.
How will you go there?
The best way to go to Moinot Ghat is from Gulisthan. You will find the Jamuna Paribahan, which will bring you to the bank of Moinot Ghat. It takes only 1.5 to 2.5 hours with the cost of BDT 90 only. You can return on the same bus. But it would be best to remember that the last bus will come for Dhaka at 6:00 PM.
From Gulisthan, you can also go with Mollick Paribahan. But it will take you to the Majhirkanda of Nababganj. You can come to Moinot Ghat from here also via Dohar Bashtola and Kartikpur.
You can also come from Gulistan Fulbaria with Nagar Paribahan. This bus will take you via Munshiganj and will land you in Kartikpur. You can reach Moinot Ghat from Kartikpur Bazar with the Auto. You can also use Rent-A-Car service directly if you are in a 4/5 members team.
However, you can use a personal vehicle to reach Moinot Ghat.
Where and what to eat in Moinot Ghat?
Most people try to taste the Padma's Hilsa fish by sitting beside the river. There are two popular hotels in Moinot Ghat. They are "Ahatar Chowdhury Hotel" and "Julhash Bhuiya Hotel." The price of Hilsa fish is nearly 60 to 90 Tk in Ahatar Chowdhury Hotel. For eating a bigger size Hilsa fish, you need to order early.
You should miss the delicious sweets of Karthikpur. Many of these sweets are even exported abroad. Several sweetshops such as Niranjan Mishti Bhandar, Muslim sweets, Ranjit Mishtanno Bhandar, and other such shops are found in the area.
3. Golap Gram (Rose Village)
Golap Gram is a perfect place for flower lovers to make a day tour. Farmers commercially cultivate rose flower plants throughout Sadullapur village, at Birulia Union under the Savar Thana. This village is known as 'Golap Gram,' as the whole village is occupied by the mind-blowing loveliness and scent of roses round the year. You can visit this lovely place to disconnect yourself from the regular restlessness of the busy Dhaka city.
Along with the enormous rosary, you will also find Rajanigandha, Gerbera, and Gladiolas. On any vacation or weekend, you can travel to this fantastic village. Honestly, you will enjoy the day will eye-catching beauty.
When to Visit Golap Gram at Sadullapur?
Farmers cultivate much variety of rose flowers at Sadullapur village year-round. So you can tour this rose village at any time of the year. If you want to soothe your eyes by seeing rose gardens filled with many roses, visit Golap Gram during June or July.
How to reach Golap Gram?
Take a Bus, Tempo, Auto-Rickshaw, or Rickshaw from Mazar Road of Mirpur – 1 to reach Shinnarterk Ghat or Beribadh. You will need to ride an engine boat from this Ghat. It will take you to the Sadullapur or Golap Gram. However, you have to walk from the riverside during the dry season to reach the village.
There is another option; also, you can go from Uttara. You have to come to Dia Bari first from Housing Building (North Tower). Then take the Laguna or Auto to reach Birulia Bridge and at last ride another Laguna or Auto to come to Sadullapur or Golap Gram.
Where to eat in Sadullapur Golap Gram?
There are several tea stalls under the Banyan tree at Sadullapur ghat. Here you can drink tea and eat some snacks. There is a local hotel near Sadullapur Ghat. You can have breakfast or lunch in this hotel. However, it would be best to carry some food from home.
4. Baliati Jamindar Bari
Baliati Jaminder Bari will satisfy their souls for those who love elegant antiquity. Baliati Jamindar Bari is another famous inexpensive tourist place under Saturia Upazila, which is about 35 Kilometer away from Dhaka city. Baliati Jamindar Bari, comprised of the seven most significant buildings, is one of the largest historical palaces in Bangladesh. There are also many ancient architectures besides the river in Manikgonj.
The surroundings of this Jamindar Bari bestow captivating natural beauty. The backside of the palace has a pond having four ghats. It is one of the outstanding representations of the 19-century monuments of the renaissance colonial style in Bangladesh. You will love the peaceful atmosphere of this ancient palace of reminiscent magnificence and pride of the past Jamindars.
The Bangladesh Archaeological Department accused this remarkable complex in 1987 and gave a new name, "Baliati Palace," as protected cultural property.
How to reach Baliati Jamindar Bari?
This Jamindar Bari is about 2 hours away from Dhaka. You will get a direct bus service from Gabtoli to Saturia Upazila, costing around 70 BDT. The bus will drop you at the Saturia Bus Stand. You have to take a Rickshaw or CNG to reach the Baliati Jamindar Bari.
Visiting Hours
Summer Season (April- September)
Tuesday - Saturday: 10.00 AM –01.00 PM, 01.30 PM – 06.00 PM
Friday: 10.00 AM – 12.30 PM, 02.30 PM – 06.00 PM
Sunday: Closed
Monday: 02.30 PM - 06.00 PM
Winter Season (October- March)
Tuesday - Saturday: 09.00 AM - 01.00 PM, 01.30 PM – 05.00 PM
Friday: 09.00 AM – 12.30 PM, 02.00 PM – 05.00 PM
Sunday: Closed
Monday: 01.30 PM – 05.00 PM
Ticket price of Baliati Jamindar Bari
The ticket price is BDT 5 for students.
For Locals, it is BDT 20.
For SAARC tourists, it costs BDT 100.
For foreigners, the charge is BDT 200.
Where to eat?
There are several restaurants near the area. You can find food there easily.
5. Zinda Park
Zinda Park is one of the major attractions of the Narayanganj district. If you are looking for a village-like tranquil area to reminisce about the golden days of your childhood and spend some quality time with your family, consider the Zinda Park near Dhaka. This place is also recognized as Oikotan Eco Resort.
The park spread over about 150 acres in Rupganj Upazila of Narayanganj. With more than 10,000 species of trees of nearly 250 varieties, several reservoirs with a vast area of countless birds, the park has become one of the most visited places for travelers from home and abroad. Being very close to Dhaka, it is also famous as a picnic spot. The park has several bungalows for the comfort of visitors and picnickers.
Why Zinda Park is worth visiting
The park is covered with green all around. There are green plants, flowers, and fruits if you look everywhere. There are tong houses on the trees, big sun-built ponds, bridges over the ponds, and the park have a market, a beautifully constructed library, a canteen, and a mini zoo. And there are six well-equipped boats in the park lake for navigating. The modern architectural style of the various buildings at Zinda Park will fascinate you.
The distance from Dhaka to Zinda Park is only 36 kilometers. If you want to have a picnic or a day trip, you can choose Zinda Park. It is better to inform the authorities two or three days before reservation.
Where to eat at Zinda Park?
There is a restaurant inside Zinda Park. You can eat food in package form. Different local food items like chicken/cow / Khasi (Mutton), vegetables, pulses, and rice will cost between 280-300 BDT. You can carry food from outside if you want. But in that case, you have to pay a fee of 30 BDT.
Zinda Park Entry Fee
Zinda Park's entry fee is BDT 100 for adults & BDT 50 for children.
If you want to carry food outside, you must pay an extra BDT 30.
The entry fee to the library is BDT 20.
Parking Fees
Bicycle: 10-20 BDT
Motor Bike: 20-30 BDT
Car/Microbus: 50 BDT
How to reach Zinda Park?
Firstly, you need to go to Kuril Biswaroad. Then you have to buy a ticket for Kanchan Bridge from the BRTC bus in Kuril and get off at Kanchan Bridge. So far, the fare will be 25 BDT. To get to Zinda Park Bypass from Kanchan Bridge, you must pay 20-30 BDT for Laguna or Auto. You can reach the park gate by walking down the bypass according to the direction. However, if you go by rickshaw, the fare will be 80-100 BDT. You can go directly to the gate of the park by rickshaw.