Special Supplement
The meaty affair
---
Farhana Khandokar
Farhana Khandoker shares some great and easy to follow flavourful recipes of decadent savory dishes. She wants to introduce new creative ways to cook and show how one can have a blast in the kitchen. Hope you will enjoy the recipes, try them at home and see how they came out for you!
Ingredients
Mutton 500 gm
4 Cloves
Cinnamon sticks
4 green Cardamom
3 Bay Leaves
2 tbsp Butter
1 cup Curd
1 tbsp Cashew Nut and Poppy Seed paste
1 tbsp Oil
1 tbsp White Pepper powder
1 tbsp Ginger garlic paste
4 Onion paste
Salt to taste
3 Green Chillies
Garam Masala 1 TBSP
4 dry Red Chilly
½ gm Saffron
Few drops of Kewra Water
1 Onion cut into rings
2 tbsp raw Papaya paste (meat tenderizer)

Instructions
First marinate the mutton with salt, white pepper powder, ginger garlic paste, curd, papaya paste and rest for 2 hours. Heat Butter in a pan, add whole garam masala (clover, cinnamon sticks, cardamom, bay leaves), onion paste, ginger-garlic paste. Cook till the raw flavour is gone. Add white pepper powder, salt, chopped green chili, cashew nut and poppy seed paste, curd. Cook well.
Add marinated mutton and water. Once it comes to boil put the lid on and let it cook for 30 minutes in a slow flame. After that, add garam masala and sugar. Mix it. Cook till the mutton is tender. Heat oil in another pan. Add red chili, onion rings and sprinkle some salt. Cook till onions are brown and pour this on the top of the mutton. Cook it for 2 to 3 minutes and add saffron switch off the flame. Serve Hot.
HANDI BIRYANI
Ingredients
1.5 cups of long grain Rice
2 potatoes, quartered and boiled
2 capsicums, cut into strips
2 onions, chopped into strips
2 onions, quartered
2 tomatoes, chopped
1 cup sliced mixed vegetables (french beans, carrots, cauliflower, etc)
1 tsp ginger, grated
1 tsp garlic, grated
1 cup curd
2 Bay Leaves
2 Cloves
1 inch Cinnamon stick
2 Cardamoms
4-5 whole Black Peppers
1 tsp Red Chili powder
1 tsp Garam Masala
Salt to taste
¼ tsp - Turmeric powder
2-3 pinches Asafoetida or Hing
1 tbsp Lemon juice
1 tbsp coriander, chopped
10-15 cashews
10-12 Almonds sliced to flakes (optional)
4-5 tbsp Ghee

Instructions
Wash and soak rice in salted water for 30 minutes. Heat ghee in a heavy saucepan.
Fry onion strips till crisp, brown, drain, keep aside.
Fry cashews till light brown, drain, keep aside.
Fry capsicums till tender, drain, keep aside. Meanwhile, heat 6 cups of water in a large vessel.
Add bay leaves, peppers, cloves, cinnamon, cardamoms and salt.
When it comes to boil, drain and add rice.
Bring to boil, cook for 8-9 minutes, till rice is just but not fully done.
Drain in a large colander, spread in a big plate, cools. Grind quartered onions, ginger, garlic to a paste. In hot ghee, add paste and stir fry for 2-3 minutes.
Add all powdered masalas, tomatoes, mixed vegetables, stir and cook till fat separates. Beat curd, add and stir till the boil resumes and cook 2-3 minutes. Add potatoes, stir and keep aside.
To fill handi
Grease an oven proof handi well on the inside.
Place in half of rice, spread at the bottom. Top with half vegetables layer, spread over rice. Mix together fried onions, capsicums, cashews, sliced almonds, coriander.
Sprinkle half over vegetable layer. Sprinkle half lemon juice all over.
Repeat rice to lemon juice layer by layer. Either covers with fitting lid, seal edges with chapati dough or Seal top with a tightly packed foil sheet.
Make a small slit for excess steam to escape. Bake in a preheated oven at 130 C for 15-20 minutes.
Break seal at the table to get the most out of the aroma.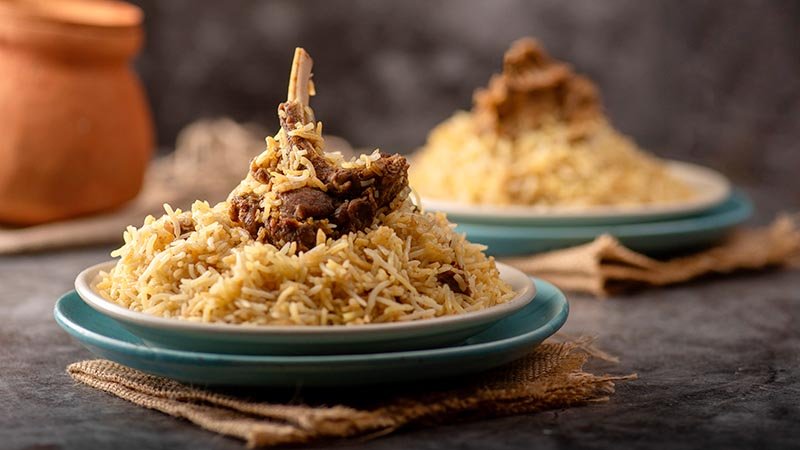 MUTTON FRY
Ingredients
Mutton 200 grams
1 Onion, Tomato
1 tbsp Ginger garlic paste
1 tsp Coriander powder
2 tsp Chili powder
½ tsp Pepper
Salt to taste
Few Curry leaves
Garam Masala
Oil for shallow frying

Instructions
Pressure cook mutton with onion, tomato, ginger garlic paste, coriander powder and 1 tsp of chili powder and salt for 10 minutes.
Now heat oil in a pan. Then mix cooked mutton with chili powder garam masala powder pepper and salt
Add curry leaves in pan. Then add mutton and shallow fry for 5 minutes.
Mutton fry is ready to serve