Special Supplement, Art & Life Desk, Travel & Tourism
Sikder Resort Kuakata and Villas For Holiday
---
It is the most prominent resort in Kuakata. Sikder Resort & Villas is a concern of Sikder Group located at Hossainpara, Mohipur, Kuakakta, Bangladesh. It is a perfect getaway destination far from the crowded city into the beautiful resort located some yards away from the beach. There is also a natural cannel inside the resort compound. The green landscape, several attractive picnic spots, garden with sitting arrangement, surrounded by walking path inside the compound will connect you to nature.
The deluxe room for two goes for BDT 10000, the superior villa goes for BDT 30000, and the prized possession, premier villa with swimming pool will cost around BDT 40000.
For details visit: www.sikderresort.com
Luxurious destinations for Eid holidays
No matter what your budget range, vacationing in resorts with your loved ones is made possible thanks to the countless wonderful getaway spots scattered across the country. In recent years, that number has tripled, and now we have world-class resorts right here at home. Here is a comprehensive list of resorts at different price points for your convenience.
Sikder Resort Kuakata Bangladesh
Are you looking for a place to relax and get away from the city?
Sikder Resort & Villas is located in Kuakata, Bangladesh. It's perfect for anyone who wants to escape the hustle and bustle of busy city life. You can enjoy beautiful views of nature while relaxing by the pool or taking a walk along the beach. The resort also has several picnic spots where you can spend time with friends and family members. There are even walking paths inside the compound so you don't have to worry about getting lost!
They offer comfortable rooms that will make your stay as enjoyable as possible. Their staff is friendly and helpful, so if there's anything we can do to make your trip more memorable, just let them know! Come see why their guests love staying at Sikder Resort & Villas during their visit to Kuakata, Bangladesh!
Nilgiri Hill Resort
A must-see place of Bandarban. 2400 feet high from sea level. There are three bungalows in the Nilgiri resort. A tremendous cafe and a lot of beautiful sitting places too for hanging out with friends and family. Security is top class and a functional and effective helipad is also situated. In a word, the beauty of Nilgiri hill cannot be expressed in language.
Palace Luxury Resort
Located in Putijuri of Habiganj, the Palace Luxury Resort is a high-end experience with world-class facilities. The resort received a certificate of excellence from Trip Advisor in 2018. It is the largest resort in Bangladesh and a 5-star luxury destination. The resort offers various activities including a trekking trail, boat rides, fishing, badminton and basketball, and even a Cineplex for movie lovers. The resort also boasts two restaurants, a café and a bar with two more exotic-themed restaurants lined up to be opened soon.
You can book a villa or individual rooms at the resort depending on your preferences. The prices range with individual rooms starting from approx BDT 17,000 and up to BDT 150,000 for the Presidential Villa.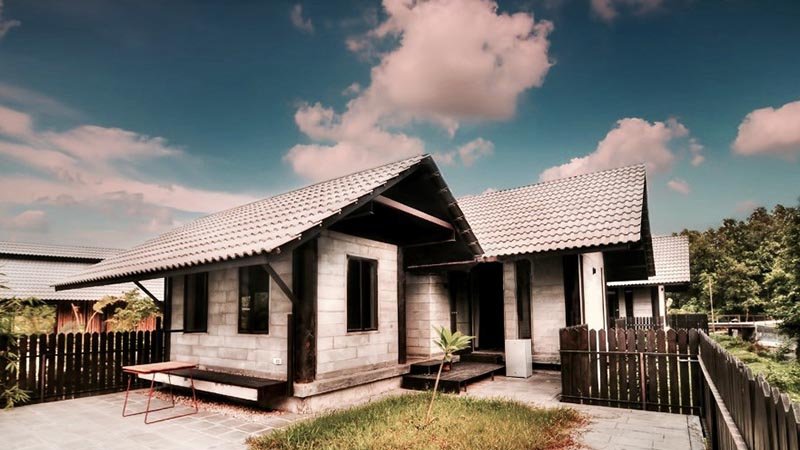 Nazimgarh Wilderness Resort
Nazimgarh Wilderness Resort is located in Lalakhal, Sylhet, and set on six acres of landscaped hillside. Accommodations within the resort consist of the Terrace, Villa, and Bungalow, with fifty luxurious world-class double rooms and suites. The majority of the rooms are equipped with jacuzzis, balconies, and sun-decks, with full privacy for individuals and families.
The resort also offers a wide array of activities for individuals, couples, families as well as corporate teams. Guests can go on a boat cruise or go canoeing or kayaking on the blue/green waters of the Shari River. Nazimgarh resort has endless miles of trekking, whether it be through the Rain Forest of Khadimnagar National Park near 'Garden Resort', or the hills of Lalakhal next to the Meghalaya mountains at the 'Wilderness'. Guests can also go cycling or on ATV rides in and around the fields of Lalakhal. The resort has 3 different restaurants with varied cuisines for its guests as well as the opportunity for exclusive dining at their hilltop Pavilion.
The resort offers rooms in different price ranges starting from BDT 12,500 for a deluxe room and upwards of BDT 44,000 per night for a
Dusai Resort & Spa
Dusai Resort & Spa is the first five star villa resort & spa in Bangladesh. Dusai Resort and Spa has two restaurants and two cafes, including a poolside one, for the convenience of its guests. The resort has a list of facilities and activities as well for its guests including a spa, swimming pool with Jacuzzi and a lap pool, a Cineplex as well as various sports activities on offer.
Accommodation in the resort consists of 30 superior and premium type rooms in the terraced main hotel. Then there are 24 deluxe rooms in five two-storied terraced villas and 9 two-bedroom suites on four separate two-storied terraced villas on the slopes of the south-facing hills, a privately enclosed one bedroom Honeymoon villa with private heated infinity pool and finally a privately enclosed large Presidential villa with its own heated infinity edged pool.
Rooms at Dusai resort range from BDT 10,000 to BDT 12,000 whereas the villas start from approx. BDT 16,000 and go up to BDT 60,000 per night.
Nokkhottrobari Resort
Nokkhottrobari resort is a low-key destination situated in Rajendrapur in Gazipur. Its charm lies in its simplistic layout and its rustic aesthetics.
The resort was once used as a shooting spot for the country's film and television industry. Guests can visit the picturesque locations once used as sets and view the make-shift houses which seem to belong to a different era. Guests can host poolside parties and open-air buffets or barbecue parties. Their other facilities include a conference centre, a library, movie theatre and a kid's zone.
The resort is just one-hour drive from Shahjalal International Airport and a 1.5 hour drive from Dhaka city. The hotel room rates range from approx BDT 6,000 to BDT 8,000 while their family bungalow and their water bungalow is approx BDT 28,000 and BDT 10,000 to BDT 22,000 per night respectively.
Novem Eco Resort
Novem Eco Resort is located in Sylhet's Sreemangal in the 'Tea Centre' of Bangladesh. Main attractions are the tropical forest of Lawachara National Park, tribal villages of the Manipuri, Tripura and Khashia, and the surrounding Tea Gardens covering hilly terrain. Lawachara National Park is around 4 km from the Resort.
The resort has its own tea garden placed on the hills surrounding by the valley. Novem offers its guests a list of facilities including a conference room, a full equipped indoor sports room, swimming pool and a badminton court.
All the structures of the resort built inside are of wood, mud, straw and bamboo that are environment friendly. Guests can choose to lodge at their mud cottage to experience life in rural Bangladesh, or the wooden villa which both come with an adjoining swimming pool and are furnished with modern amenities. Guests can also stay in the Novem tents if they want to fully experience becoming one with nature. The resort also has several villa options for families, couples and groups.
The different accommodations listed above range from BDT 5,500 to BDT 17,500 per night.
Teavilla Luxury Resort
Last but not the least is Teavilla Luxury Resort. Perhaps one of the most unique resorts listed here, Teavilla is also situated in Moulvibazar, Sylhet. The resort is a stunning, beautiful villa which looks fit to grace the silver screen.
Nestled within a small tropical forest on hillocks with thousand of trees, Teavilla is the perfect place to getaway for the hustle and bustle of daily life. The gorgeous and cozy villa will make you feel like you are living a life more suited for royalty.
The resort can be used as a place for a family get together, or even small corporate meetings and conferences.
Teavilla is outfitted with all modern amenities and boasts 4 luxury bedrooms with attached modern wash rooms, a large oval-shaped furnished hall room, a decorated open lobby, an indoor temperature controlled swimming pool, a park with kids zone, a well furnished dining hall as well as an open air Bar-B-Q eatery. The resort provides 24 hours room service and the dining hall is prepared to serve Bengali, Indian & Chinese food round the clock.
Each room at the resort costs upwards of BDT 7,000 and to book the whole villa, i.e., the four rooms and all other facilities will set you back upwards of BDT 30,000.