Special Supplement, Magazine
Mustard Salmon
---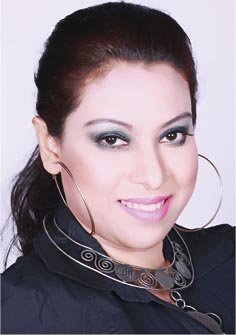 Afroza Naznin Shumi
Celebrating Eid-ul Fitr marks the end of the holy month of Ramadan, with a fabulous feast. Culinary artist Afroza Naznin Shumi shared some delectable Eid recipes with us. Take a look, put on your apron and get cooking. Eid Mubarak from our family to yours.
Ingredients
5 to 6 pieces Salmon
2 tbsp Mustard paste
1 Onion
2 green chilies
3 to 4 cloves of garlic
1/4th tsp Turmeric powder
1 tsp Lemon juice
Salt (to taste)
Mustard oil (as needed)
Instructions
Mix the masala together and blend to a paste. Marinate the fish in the paste and then fry in oil.
Garnish and serve the fish while it's hot.
Kunafa
Ingredients
1 packet Vermicilli (LachchaSemai)
½ cup melted Butter
½ Milk
1½ Cheese curds
3 tbsp Condensed milk
1 tbsp Cream
1 cup Sugar
2/3rd cup of Water
1 tbsp Orange juice
1 tsp Lemon juice
Cherry or nuts (thinly sliced for garnishing)
1 drop Orange food coloring
Instructions
Mix sugar with water and put on heat. Add orange and lemon juice after it turns slightly sticky tomake a syrup. Take the semai in a bowl and add butter and milk gradually. Make sure that the semai does not clump up.
Separate the semai into smaller portions. Add condensed milk and cream to cheese curds andmix well. Brush a pan with butter and food coloring and add a one-inch layer or semai. Make sure the layer reaches the edges of the pan. After that add a layer of cheese curds and press into place. Finally add another layer of semai on top.
Place in the oven and bake for 170 degree Celsius for 30 minutes. After baking place it on a plate and pour the sugar syrup on top of it. Garnish and serve your delicious homemade Kunafa.
Green Papaya Salad
Ingredients
1 cup Green papaya
(julienned)
½ small carrot (julienned)
4 baby tomatoes (cut in half)
½ small cucumber (julienned)
2 green chilies (julienned)
½ an onion (julienned)
2 tspTomato sauce
½ Kasundi
½ tsp Chaat masala
1 tsp Sugar
Black salt (to taste)
½ tsp Black pepper powder
1 tbsp Lemon juice
1 tbsp Peanuts
1 tbsp Coriander leaf, finely chopped
Instructions
Peel and wash the green papaya well. Then finely chop it into thin slices. Add all the remainingingredients together and serve your fresh green papaya salad.
Mutton Rogan Josh
Ingredients
500 gms Mutton
200 gms Yogurt
2 tbsp Ginger paste
1 big onion, finely chopped
2 tbsp Kashmiri red chili powder
1 tsp Asafoetida
2 tsp Fennel powder
Cumin seeds (whole)
1½ tbsp Garlic paste
1 tsp Saffron
100 gms ghee
½ tsp Cumin seeds paste
½ tsp Nutmeg powder
½ tsp Mace powder
1 tsp Black cumin
½ tsp Cinnamon, cloves and
cardamom powder
4 green chilies
A pinch of turmeric powder
Salt to taste
Instructions
Ingredients
3 large prawns
1 tsp Lemon juice
¼ spoon Black pepper powder
¼ spoon Soy sauce
1 tbsp Chili sauce
¼ spoon Mashed mustard
Sugar (as needed)
¼ spoon Barbecue sauce
Salt (to taste)
3 tbsp Cottage cheese sliced
Mix the meat with chili, salt and turmeric and put aside to marinate.
Heat up ghee in a pressure cooker and pop the cumin seeds in it. Finely chop the onion and frytill it turns slight reddish. Add all the masala pastes and the meat to it and shift it to the pressurecooker. Let it sit and after enough time has passed add water and close the lid of the pressurecooker. Wait until you hear 3 or 4 whistles, and then take out the meat and place in a dish.
In a separate dish, heat up ghee and add black cumin, nutmeg powder and mace. Now add beaten yogurt to it and stir well. Add the cooked meat to this mixture.
After stirring the mixture add Garam masala powder and saffron dissolved in milk. Stir well andkeep on heat for 15 more minutes. Well the oil rises to the top take the mutton off heat. Serve the mutton rogan josh with naan, pilafrice or plain rice.
Instructions
Mix lemon juice, white pepper powder, salt, ginger paste, garlic paste, chili powder, chili sauce,sugar, mustard paste and barbecue sauce. Marinate the prawns in the mixture and then fry themin hot oil.
When the prawns are cooked through, sprinkle the grated cheese over the shrimp and grill for 5minutes. Serve the spicy, cheesy prawns while they're piping hot.