Magazine, Special Supplement
Regional Music of Bangladesh
A map of musical variations in
Folk Music
---
Though it is a very small country spanning only 56 thousand square miles, the culture of Bangladesh is enriched with diversity and regional variations in everything from food and dialect to the music. The musical history of folk music in Bengal can fill thousands of books from the ancient times to the modern contemporary music scene. The great difference in regional music is what separates them as genres and thus caters to the most niche audiences.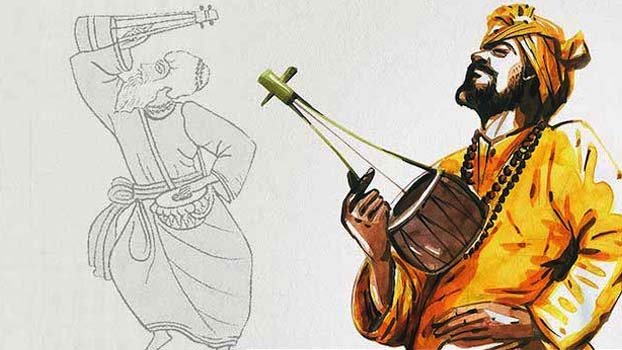 Baul
Baul is the most common folk music genre of Bangladesh. Lalon started the genre of folk music in Kushtia, Bangladesh which is also called Lalon Geeti. He was not only a singer but a spiritual writer, social reformer, composer and a philosopher, considered as an icon of Bengali culture. He inspired many song lovers, the poets and thinkers like Rabindranath, Kazi Nazrul Islam and Allen Ginsberg. He founded an institute known as Lalon Akhrah at Cheuriya in Kushtia which is now known as Lalon Academy. Every year thousands of his disciples mostly from Bangladesh and West Bengal assemble on his death anniversary to pay homage to his departed soul. A celebration and discussion meeting on his songs and philosophy are also held for three days every year.
Bhandari
Bhandari is devotional music from the South (mainly Chittagong). The songs are sung as laments with woeful tunes and lyrics.
Bhatiali
The Bhatiali folk songs are sung by fishermen and boatmen when they row their boats against the stream of the river. The word Bhatiali derives from the word Bhata which means ebb or downstream. It is mostly sung in the areas situated by the side of Brahmaputra River in Mymensingh district. Singer Abbas Uddin made the genre popular by singing the song like "Amay bhashaili re, amay dubaili re"… and many other songs.
Bhawaiya
Abbas Uddin was also famous for Bhawaiya songs and he made the genre popular in Rangpur & Dinajpur districts. Bhawaiya songs are sung both by solo and chorus in a higher pitch. Bhawaiya is also called the song of bullock-cart drivers and buffalo keepers as they used to sing this song during cart driving and plowing. According to a survey conducted by the Folk cultural and tribal cultural center, Bhawaiya means a deep feeling of love and melancholy.
Dhamail
Dhamail is a form of folk music and dance originated in Sylhet. It is practiced in the Sylhet Division in Bangladesh and in areas influenced by the Sylheti culture such as the Barak Valley of Assam and parts of Tripura, Meghalaya and Manipur in India. It is mainly performed by the women folk at the time of marriages and other auspicious occasions. The ladies stand in a circle clap their hands, dance with the beat of the music and sing together in chorus. The dance form is similar to musical chairs.
Gombhira
The genre originated in Chapai Nawabganj and is performed with a particular distinctive rhythm and dance with two performers, always personifying a man and his grandfather, discussing a topic to raise social awareness. Apart from Chapai Nawabganj, Gombhira songs are also popular in Nawabganj and Naogaon.
Hason Raja
Devotional songs written by a music composer by the name of Hason Raja that was recently repopularised as dance music.
Hason Raja was a poet, mystic philosopher, songwriter and a famous folk singer from Sunamganj, Sylhet in Bangladesh. His songs not only earned popularity in Bangladesh but he also gained international recognition after his death.
Jari
Jari is a Persian word means lamentation and in Bengali. Jari is sung for the first ten days of Muharram by the members of Shia community. Muharram is the biggest festivals for Shia community observed in commemoration of the sufferings and subsequent death of Hazrat Imam Hossain, a grandson of the Prophet Hazrat Muhammad (Sm) at Karbala.