Country
17 villages cut off for lack of bridge
---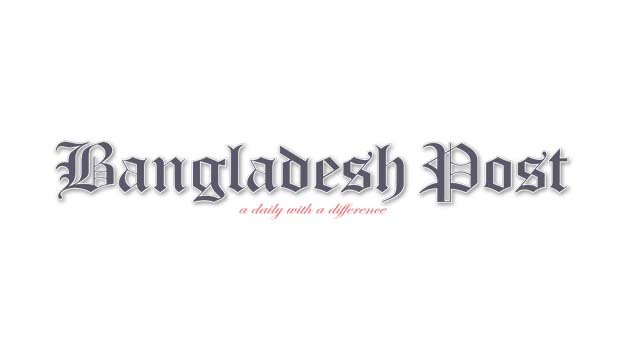 About 40,000 residents of 17 villages under the bordering Rowmari upazila of Kurigram district are suffering for a long time due to lack of a concrete bridge on Kashiabari canal in the upazila.
The unfortunate 17 village are Baraibari, Jhaubari, East Barbanda, Chuliarchar, Barbanda, Bawair, Bak­banda, Khewarchar, East Dublabari, Ijlamari, Char Ijlamari, Pata Dhoya para, Char Kalabari, Kalabari, Dubla­bari, Old Jadurchar and Nayargram.
At the risk of their lives, thousands of people, including school and college students, businessmen, farmers and working people, cross the canal on a bamboo-made rickety bridge every day.
Visiting the spot on Saturday, it was seen that the villagers and the chairman of Jadurchar Union Parishad had jointly made a 120 feet Bamboo-made bridge through a project on the east side of Kashiabari of Jadurchar Union.
Rickshaw-vans, goods, agricultural products, students, teachers, farmers, workers are crossing the canals on the bamboo-made bridge.
Abdur Rahman of Chuliarchar village said, "Before there was no bridge, we used to travel on the bamboo bridge. Now that bridge is also broken, so we have to use boats for crossing the canal." "It is very difficult to transport lcally produced goods and the fare is also high. The road has been broken for 20/25 years and there has been no news about the construction of the bridge till now," he added.
Emdadul Haque, a teacher in Kalabari village, said the people of 17 villages have suffered a lot due to the lack of a bridge. The communication with the Upazila Sadar is almost cut off. Residents of these areas travel by boats with great difficulty. There has been news that the construction of the bridge will start soon.
Jadurchar Union Parishad Chairman Sarabesh Ali said, "I collaborated with the project to make the bamboo-made bridge on the canal located on the east side of Kashiabari. At present the bamboo-made bridge is broken, the people of that area are now left with boats as their only hope of crossing the canal."
"For there is no bridge over the canal, there is no end to the misery of the people of these 17 villages, including school-college goers, job holders, traders and farmers who bring various products to the market. Construction of a bridge on the canal will begin soon, and the sufferings of the people of the area will end", he added
Rowmari Upazila Engineer of Local Government Engineering Department (LGED) Md Hasan said that the allocation and tender work for the construction of a bridge over the canal on the east side of Kashiabari has been completed and the construction work of the bridge will start after the flood situation mitigates.