Special Supplement
Fazilatunnesa Mujib, My Mother
---
Sheikh Hasina
It was the month of August. My mother Bangamata Sheikh Fazilatunnesa Mujib and my younger brother Sheikh Kamal was born on August 8 and August 5 respectively. What a cruel irony of fate that it was on the 15th of this very month that my mother and my brother had to give their lives in the same tragic month of August.
My father, Father of our Nation Bangabandhu Sheikh Mujibur Rahman who was martyred on 15th August along with my mother Begum Fazilatunnesa Mujib, Kamal, Jamal, Russell, Kamal-Jamal's newlywed bride, Sultana, Rosie, my only uncle Sheikh Abu Nasser, my aunt Abdur Rab Serniabat, his 13-year-old daughter Baby, 10-year-old Auraf, 4-year-old grandson Sukant, Sukant's mother.
My father's military secretary Colonel Jamil, who came running to save me. Sheikh Fazlul Haque Moni and his pregnant wife Arju Mani were killed on August 15 as well. Thus, it all sums up to about 18 members of the family and the on-duty police officer.
Why did this murder happen? For the one reason that the father of the nation made the country independent. In response to his call in the great war of liberation, millions of people took up arms and fought that war. I pay my respects to those who were martyred in the great liberation war.
There are many unnamed events in the history of the world. I remember my mother's memory. We know that today we are independent, the nation is independent. But as my father struggled for this freedom and my mother, my grandparents were always by his side cooperating.
My grandfather died shortly after my mother was born. She was only three years old then. My grandfather was full of desires. He used to work in Jessore and always said that he wanted to educate his two daughters till their bachelors. At that time, it took 22 to 24 hours to travel from Dhaka to Ajparagaon. Having such high thoughts at a time when girls were not allowed to go to school is the identity of a very broad mind.
She received some elementary education in a missionary school. But then she could not continue going to school for a long time, as it became forbidden. Moreover, there was no school in that area. There was only one school, GT School, the Gimadanga Tungipara School, which our ancestors built.
It was about a mile and a half away from our house, across a very dirty and muddy road. Girls are not allowed on that road or to tavel by boat. Tuitor was kept at home for studies but he only taught Arabic. But my mother had an unquenchable interest in her studies.
Her father died when she was three years old. You know that at that time, if a son died before his father, the deceased's sons and daughters would not get any property under Muslim law. My mother's grandfather then decided to marry his two granddaughters to his own cousins' sons and leave all the property in the names of the two granddaughters.
A few days later, my grandmother also died. Since then, my mother was raised by my paternal grandmother, her mother-in-law. The houses were neighbouring and my mother further grew up with her mother-in-law.
She got married at a young age and grew up with her mother-in-law and brother-in-law. We used to hear many stories of her childhood from my grandparents and uncles. My father has been doing politics since he was studying in Calcutta. He started working for humanity and for that desire to work, he has taken many risks in life.
Helping people during the riots of '48. Helping people when there was famine; He has always served people in this way since his school days. We lived with our grandparents. When Pakistan was created, my father was admitted to Dhaka University.
At that time, he started a movement for the fourth-class employees. He was arrested while protesting during the language movement. The first language movement was in '48. A strike was called on March 11 and he was arrested immediately after the strike.
He then went on a hunger strike in '59, then was arrested. In fact, he was arrested 3-4 times between '47 and '49. He was arrested in October '49 but was not released. Until 1952, he was a prisoner and carried out all the activities of the language movement from prison. He used to sit in the hospital secretly and meet the leaders of Chhatra League and Awami League.
My mother could only hear the news of what was happening. So, she rarely got close to her husband. If I look back at our lives and my father's life, we did not have a father for two years in a row. So, as a wife my mother was just deprived.
But whatever happened, she never complained. She always believed that her husband was working for the country, working for the people, doing what he was doing for the welfare of the people.
The property that my mother's grandfather left behind was a lot of land as he was a 'zamindar' (landlord). All of the property was in mother's name. My grandfather always gave the money that came from it to my mother. Mother did not spend a single penny for herself; she kept everything.
She knew that my father was in politics and he needed a lot of money which my grandparents always gave. Grandfather used to give money to his son all the time. Even after that my mother used to deprive herself and handed over the money to my father all the time. That's how she started contributing. She wasn't even much of age then.
Later, when the United Front was elected in '54, everyone was involved in the election work starting with the election campaign. My mother worked at that time. After winning the election, my father brought me in. My father wanted us to do well in school.
He later became a member of the cabinet. The cabinet broke up again, I still remember, when we were very young, Kamal-Jamal were just toddlers. We lived in house number 3 on Minto Road. One morning I woke up and saw my mother sitting quietly on the bed her face was tensed. I was very young and did't know anything. Police arrived at the house at night, arrested my father and took him away.
Mother was sitting on the bed with tears in her eyes. I asked about father and she said that your father was arrested and taken away. This was the first arrest that happened in front of our eyes, and they kicked us out of our house with a 14 days' notice.
Where could we have gone? Mother knew very few people in Dhaka. When the ministers were there, the house used to remain crowded, but on that day everything was vacant. My father's cousin came to try and find a house.
We found a house in Nazirabazar. In this way, one blow came after another. But one thing I would say is that I never saw my mother break down. No matter how hard it was, I never told my father that you should quit politics or leave or start a family or pay for the family. Never.
She was completely in control of her world. She never bothered my father with any of her desires. Women have a lot of desire and expectations from their husbands. Sari, jewelry, house, car, and so many things.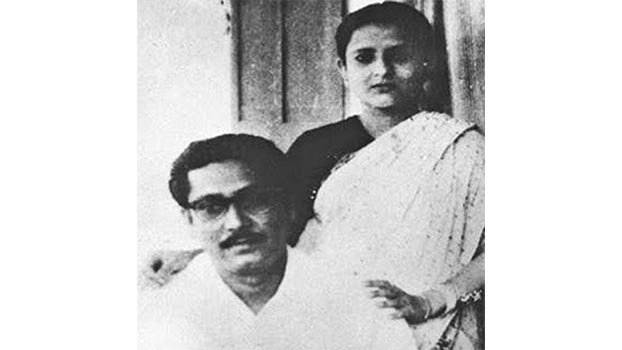 She has suffered so much in her life but she did not utter a single word. My father was repeatedly arrested since '54. Then in '55 he became a minister again and was elected to the National Assembly. He won, joined the cabinet and we came to No. 15 Abdul Gani Road.
If we look at the history of Bangladesh, we see that everyone left the party for the ministry, and I saw my father left his ministry to strengthen the organization. He left and took charge as the general secretary of Awami League.
If it was an ordinary woman, she would immediately complain that her husband was leaving the ministry. The fact that we would lose our house, car, etc, it would probably never be accepted. There would be quarrels and accusations; But I didn't see my mother uttering any word about it. On the contrary, she supported the steps taken by my father.
After arranging everything, he went to a small place. Then Mr. Suhrawardy made my father chairman of the T-Board. After that he was allowed to stay in a house in Segunbagicha. Then came Martial Law. My father was in Karachi on the day Ayub Khan declared martial law. He left early and returned that night. Then on the night of the 11th, that is, on the 12th, my father was arrested. My grandmother was with us. As soon as he was arrested, all the cash in our house and our car were seized.
I have seen my mother handle the situation with great patience. They kicked us out of the house with only six days' notice. We are little siblings on the street with luggage. Rehana was very young then. We went to a two-room house. Searching for a house day and night and then filing one case after another against my father, my mother used to be very patient in carrying out these lawsuits, going to court and looking for a house.
Awami League and my father had many friends. My grandfather always sent supplies. Maybe he wasn't in so much pain, and if he ever got in trouble, he wouldn't say it out loud.
Then we shifted to a two-storey house in Segunbagicha. Helping an Awami League leader or activist when he was ill, visiting the families of the prisoners, finding out whose house is not being marketed, and in doing so, the mother has sometimes sold jewelry and she never said anything.
We had a fridge in our house. My father brought a fridge when he went to America. He sold that fridge. He told us that drinking cold water causes cold, cough, sore throat, and it is not right to drink cold water and that's why he sold it. But he never admitted that he lacked money.
He ran the family and helped the Awami League leaders. He paid whoever was sick. I have never heard of any need from my mother. There were days we couldn't afford food. But he never told us I didn't have money; I couldn't buy anything.
She cooked khichuri with rice and pulses, and said "who likes rice every day? Let's eat poor-man's khichuri with the prickles you like. It's so much fun to eat." That is how she fed us. A man can possess the ability to deal with any situation if his character is strong. I have never heard any grieving sighs from my mother.
I am his eldest daughter. The age difference between me and my mother was not too much. She had no mother, no father, no one. As the eldest daughter, I was the mother, I was the father, I was the friend. So, no one else knew as much as I did. I could understand. The siblings were small so they could not understand anything. In every step she strengthened the party, the Awami League. However, she did not come to limelight. She used to joke that I should thank Ayub Khan, no?
Father was arrested in '58, and released in December '59 on an habeas corpus. Mr. Suhrawardy himself came and handled the case. He was then released on bail. But embargo stated that he could not go outside Dhaka, couldn't do politics. All politics was off. In that situation, my father took a job in insurance. Then to be honest, there good money, good salary, car etc. Mother got a chance to be a little better. She used to joke that Ayub Khan brought the most beautiful time of her life. My father was working and mother had a stable life. At that time, he made two rooms in Dhanmondi.
Then in October '61 we moved to Dhanmondi. My mother used to water the walls with her own hands and lay bricks to save labor while building this house.
The house had everything. Father was getting a good salary then. Even so, owning one was still beyond the reach of the average person.
After that the situation became more tense by the day. My father was arrested again in 1962, and again in 1964. If I count, I have never seen him out of prison for two years in a row. If he was in jail, he would go there, see what father needed; clothes, food and drink, court work, and mother did everything. He also had constant contact with the party. In particular, he formed Chhatra League with his own hands. Chhatra League advised them regarding anything they needed.
There was a riot in '64. At the risk of his life, father used to bring Hindu families at home at that time and arrange their shelters in different places. He volunteered to stop the riot. He did the risky things. The Bengali-Bihari riot took place in Adamji and he ran there to help. Every time he did these things my mother helped him like a shadow. She never complained about it. He used to bring one family after another, cook for them, feed them and take care of them.
Then he raised the 6-point demand. After giving the 6 points, he has traveled all over Bangladesh, where he gave speeches. There were cases where he was arrested. He was released again, went to another district and arrested again on May 7, 1966.
That time he was not released and was taken from the prison to the cantonment. Five months we did not know where he was, alive or not. At that time the movement was launched, the strike on June 7 was observed. My mother would take us to the little aunt's house, because there was a flat. There he would change his sandals, clothes, wear a burqa and ride a scooter. My uncle was studying in Dhaka, he would meet with the student leaders, he would advise him on how to run the movement.
He would come back and take us home again. The people of the intelligence agency were keeping an eye on him all the time. So, he used to work in this way to avoid the surveillance of the detectives. He worked to make the student movement dynamic, meet the leaders of the Awami League and for the strike to be successful, the movement to grow, and to be successful. But he was never in the limelight.
A time came with the question, 6 points, or 8 points? The leaders left West Pakistan. Many of our great leaders also left. Because the Awami League is such a party that the workers of the Awami League are alright but the leaders get a little lost sometimes and this is something I have seen since my childhood.
This time I saw 6 points, or 8 points? The big leaders came from Karachi to the Shahbagh Hotel, which is Bangabandhu Medical University today. My mother used to send me occasionally saying, "Come on, the leaders are coming, their wives are coming, find out about them, and see who's with them. There is no harm in getting some information! So, I would take Russel with me, return to my mother and give her a briefing. My mother had a good network in Dhaka city.
All the news of what was going on under the leadership of Gazi Golam Mostafa of the Awami League used to reach my mother. Then he would keep in touch with everyone in this way. Leaders also used to come from Mofashal and keep in touch with them. I had the good fortune to see how politically aware he was. So, at that time it was his decision not to move an inch from 6 points.
He told this to father. But our leaders got persistent regarding 8 points is very good. 8 points had to be considered according to my own experience. I was in college then and later I went to the university. We had famous leaders at that time, some of that said I don't understand anything. I used to say that there is no need to understand anything, father said 6 points so 6 points it is, no more.
He used to tell my mother, "You don't understand." She used to say, "I don't have much education but I understand only this, that is the certificate of liberation of the people of Bengal. That's what he said and that's what I know.
My mother used to cook and feed us with her own hands and we used to make tea and drink ourselves. Then study for the exam again. I would not read for the exam, I would listen to the speech. I would run again to read a little on what is happening. Wondering if that will lead to 8 points or not. But even there I saw my mother's determination, the resolution in the meeting that it would have to be 6 points.
The leaders were annoyed and angry. I have seen many incidents. When she went to the prison to meet his father, she would say everything. My mother's memory was amazing, we would sometimes call her a tape recorder. Mother never forgot what she heard once.
She taught us some rules about what to do in prison. Make little noise, give all the outside reports to father in that gap and bring his instruction, then inform the students about it. He used to give instructions from the jail regarding everything starting from slogans, but in the same way, mother used to use Chhatra League.
He was taken from Dhaka Central Jail to Cantonment on January 18, 1968. We didn't get any news. Even she was interrogated when the case of the Agartala conspiracy came about, but she answered very well.
We were hellbent on freedom. I remember when Ayub Khan fired Bhutto from the ministry, Bhutto came to East Pakistan at that time and ran to meet mother at house number 32.
The room below our living room used to have a drawing room, then a dining room, with a cloth curtain in the middle. My mother used to pull the curtain and sit inside and talk when the leaders of West Pakistan would come. She said that we won't be living with them so why meet?
My father was a minister, he was an MP, he was an MLA, he used to go to Karachi. But my mother never went to Karachi in her life, she never wanted to go. She knew; she knew long ago that this country would be independent. This was to awaken oneself in the consciousness of freedom and the feeling was intense inside of my mother. There was a belief.
We first met Abba during the Agartala case in July. When the case started, we first met in July after January, we didn't even know it until then. We turned that place into a museum. The mess in the cantonment where my father was kept and where the case was filed has also been turned into a museum.
Then our leaders charged again. Ayub Khan called a round table meeting and we had to go there, otherwise, we would be defeated. Mother got the news. She sent me, saying "He should not make any decision without talking to me." All our great leaders were there. My father knew, seeing me, he understood that my mother had sent something. My mother told me that my father would never go on parole, but will only if he's freed. That's the message I delivered. For that our leaders came home and shouted, "What kind of girl are you, don't you want your father to get out of jail?"
Mother just said that there are 35 accused here and that their wives will become widows. She was not alone, in the Agartala conspiracy case, 34 out of 35 people are married. She will not leave unless the case is withdrawn."
If he had gone on parole that day, Bangladesh would never have been independent, that is the reality. Then in every case, including the non-cooperation movement, I saw the strong role of my mother. I have repeatedly spoken of the March 7 speech. The great intellectuals have written many things that needed to be said. Some people say 'this is what you have to say, otherwise you will be ruined. 'Sacks full of papers with advices. When it came to something important, my mother would tell my father, 'Come to your room for a while.' She'd tell him "Say whatever your heart feels like saying". Because millions of people have come running from all over Bangladesh - with bamboo sticks in their hands, and the Pakistanis were ready to strike as well. Then would not have let people go home anymore. Their decision was to teach us a lesson for dreaming of independence. Some of our leaders there said that we have to say here that Bangladesh is independent from today. Many gave many suggestions.
He told the people that they have struggled all their lives, been imprisoned and oppressed." That was the speech he gave that, the speech which is the best speech in the world today. This speech has been ranked among the best one hundred speeches that have inspired people. The speech that inspired the people of this country and then when he came with the declaration of independence on March 26, he said on the phone, "The draft will go through the EPR wireless. Everything was done, everything was done."
He knew that he could be arrested or killed at any time. Mother was always involved with my father, fearlessly. The moment he declared independence, the army came and raided the house, arrested him and took him away. The next day, they came and attacked the house again.
My mother took refuge in the house next door. She was then arrested and taken away from a house in Moghbazar. She was kept in a one-storey house. Open house consisting of nothing. But I never saw my mother break down. There was always a confidence, there was courage and I saw that courage.
Then the Pakistani invaders surrendered on 16th December, but we were not released that day, we got it a day later on 17th December. Shown here is a picture, mother standing on the field. Showing hands to the people, from a bunker. The Pakistani invaders had made a bunker under the ground in this house, so standing on that bunker. When the Indian Army came and made the Pakistan Army surrender, thousands of people came there, waving their hands.
We are prisoners inside; we could not get out. Mother was giving orders through the window. She also knew the name of the soldier, and said 'Hatiyar Daldo' (Drop the weapons). On hearing that 'Hatiyar Daldo', the poor man got stunned and went to the bunker with the weapon saying 'Yes, mother yes'. So, her courage was there at that time too. There were other attempts to kill us, but we have somehow survived.
We saw my mother's instant decision making. After independence, however, she did not return to a luxurious life as the wife of the Prime Minister, staying at the house of Dhanmondi. "No, if my children are more luxurious, their views will deteriorate, their habits will deteriorate," she said.
She went with life's flow. She went to the hospital to see the girls who were abused after independence, to help the them. Arrangements were then made for their rehabilitation through the board. When the girls were married, mother herself was present. She gave her own jewelry, I also gave a lot of my jewelry. I told her to give whatever she wanted.
She was anti-propaganda. She told me one day that she was very upset to see the way a 14-year-old girl was abused. Thus, there should be no hesitation to stand with the ones who are oppressed without any hesitation.
I talked about many memories because when I die many people may not know much. So, people need to know these things. The motivation, strength, courage that comes from behind, when one does something, the mother has always given that motivation, never pulled back. What will happen to her, what will she get? She didn't want anything in her life. I can't say she ever wanted anything.
But she has always thought about making the country independent, how the welfare of the people of the country will take place. Talked to father many times after independence about what a horrible situation it is in a war-torn country! Even then, she kept inquiring. She used to share the information with father.
She was by my side until the last moment of his life, when the assassins killed my father. She did not want to live. She said, "If you kill him, kill me too." Thus, she gave her life. They took everyone away. Just us two sisters were left. We went abroad only 15 days ago. Sometimes it seems that only those who have lost loved ones can understand what it is like to live like this.
I wish blessings to all. The contribution of my mother to the independence of the country and the deep love she had for the country, the people of this country had the same dream with my father that the people of this country will have a beautiful life and will live well. There will be no poverty. The belief that father could accomplish it was always with him. But the assassins did not let that happen.
So, I have to do the unfinished business, that's what I believe. Apart from this, there is no other demand. But my mother's whole life has been a life of sorrow, and with that she has made great sacrifices. I wish for everyone's prayers for her. I would like to pray for all those who were martyred on 15th August. May Allah Almighty grant them heaven.
The writer is Prime Minister of Bangladesh (Translated by Tauhidur Rahman Afridi)