National
Decentralisation, coordinated actions needed to attain universal eye health coverage
Speakers say at dialogue on eye care
---
Speakers at a dialogue in Dhaka have suggested taking decentralization and coordinated actions by the government, non-government and private sectors to reach eye care services to the unreached to attain universal eye health coverage.
They also called for building greater coordination between the government, NGOs and private organisations working in the eye care sector, establishing intra- and inter-sector collaboration, and ensuring task sharing among the stakeholders for better results to implement WHO recommended integrated people-centered eye care approach to strengthen eye care services.
"We, all stakeholders, need to come forward with more practical actions and to sit together for a better coordination among us and take lead for solving the coordination and other issues," said Prof Dr AHM Enayet Hussain, Chair of IAPB South East Asia, Bangladesh Chapter and former Director General of Medical Education, at the dialogue.
Plans have to be taken to reach out to elderly persons, people with disabilities, minority groups, ethnic, marginalised people, including garments and tea garden workers, those leaving in hill areas and other hard-to-reach to ensure inclusive eye care services, he said.
Prof Enayet stressed the need for formulating action-oriented programmes on Essential Eye Health Package for better delivery of eye care services to attain universal eye health coverage, which means that all people have access to eye care services without financial hardship.
He said eye care should be prioritised in medical education.
Speaking at the event, Prof Dr Deen Mohd Noorul Huq, former Director General of DGHS, said Bangladesh has gone through a revolutionary change in the healthcare sector, particularly in eye health care, and thanked all stakeholders for their contribution to the success. He stressed that there is no alternative to the concept of public-NGO-private partnership to achieve universal eye health coverage and SDGs.
Mentioning that the present government has increased the national eye care budget fivefold, he said funds to government-run "community vision centres" at the upazila level now should come from the government's revenue sector instead of the development sector for their sustainability.
"Unless they are brought under the revenue sector, all the efforts made to establish these community vision centres will go in vain," he said.
Describing the cost of treatment as a big barrier to eye health services, Prof Huq said the government and non-government actors need to try to offer free or low-cost services to the people in need.
He said effective coordination between the organisations working for eye care services and National Eye Care is the only way to address eye health problems and urged all concerned to overcome any gaps for better results.
Speaking at the event, Syed Mahfuzul Haq of WHO highlighted the importance of the control of non-communicable diseases (NCD) such as diabetic eye diseases and utilisation of government NCD corners at the Upazila Health Complex for that.
The establishment of community vision centres on the same premises will ensure better coordination, he said.
Almost all participants expressed their concern over the lapses in inclusion and suggested proper utilisation of DHiS2 to ensure database management for analysis, planning, collaboration and improving interventions in national-level information system for better planning and showcasing the progress made.
INGO Forum in Eye Health organised the "Dialogue on Country Planning on Integrated People-centred Eye Care IPCEC as Recommended by the World Report on Vision Towards Universal Eye Health Coverage UEHC 2030: Reaching the Unreached – Our Actions and Opportunities in Eye Care" at hotel Amari Dhaka on Sunday, ahead of the World Sight Day which falls on Oct 13.
INGO Forum is an umbrella organisation of Andheri Hilfe, CBM Global, Heart to Heart Foundation, Helen Keller International, The Fred Hollows Foundation, Orbis International, Sightsavers, and VisionSpring which work in eye health care.
Dr Munir Ahmed, Chair of INGO Forum and Country Director of Orbis International, chaired the dialogue while Amrita Rejina Rozario, Co-chair of INGO Forum and Country Director of Sightsavers gave the vote of thanks. Mohammad Rofiqul Islam, Project Manager-Eye Health at Sightsavers, presented the keynote paper.
As national NGOs and private sector also contribute to eye health significantly, representatives from Ispahani Islamia Eye Institute & Hospital -- CEO AKM Akhtaruzzaman and Director Gazi Nazrul Islam Faisal, and representatives from BRAC -- Dr Ariful Alam and Dr Rahanuma Arojala -- were present at the dialogue and shared their concerns.
They said eye hospital/clinic policy for NGO and private sector needs to be revised and this is the time to recognise a few barriers in eye care services i.e. licensing issues, tax on spectacles, and lack of training facilities and recognition of ophthalmic personnel that hinders eye care service delivery by NGO and private sector.
Dr Munir said the eye health sector stakeholders did not have the scope to sit together in person and could not discuss in the last two years after the publication of WHO Report on Vision due to the Covid-19 pandemic.
"So today we will put in our opinions and suggestions on future actions for universal eye health coverage so that they are heard by the policymakers," he said.
Dr Munir urged the formation of a platform 'Partners in Eye Health', apart from INGO Forum, to include all eye hospitals in Bangladesh to create a force in the eye care sector and play a strong role in advocacy with the government.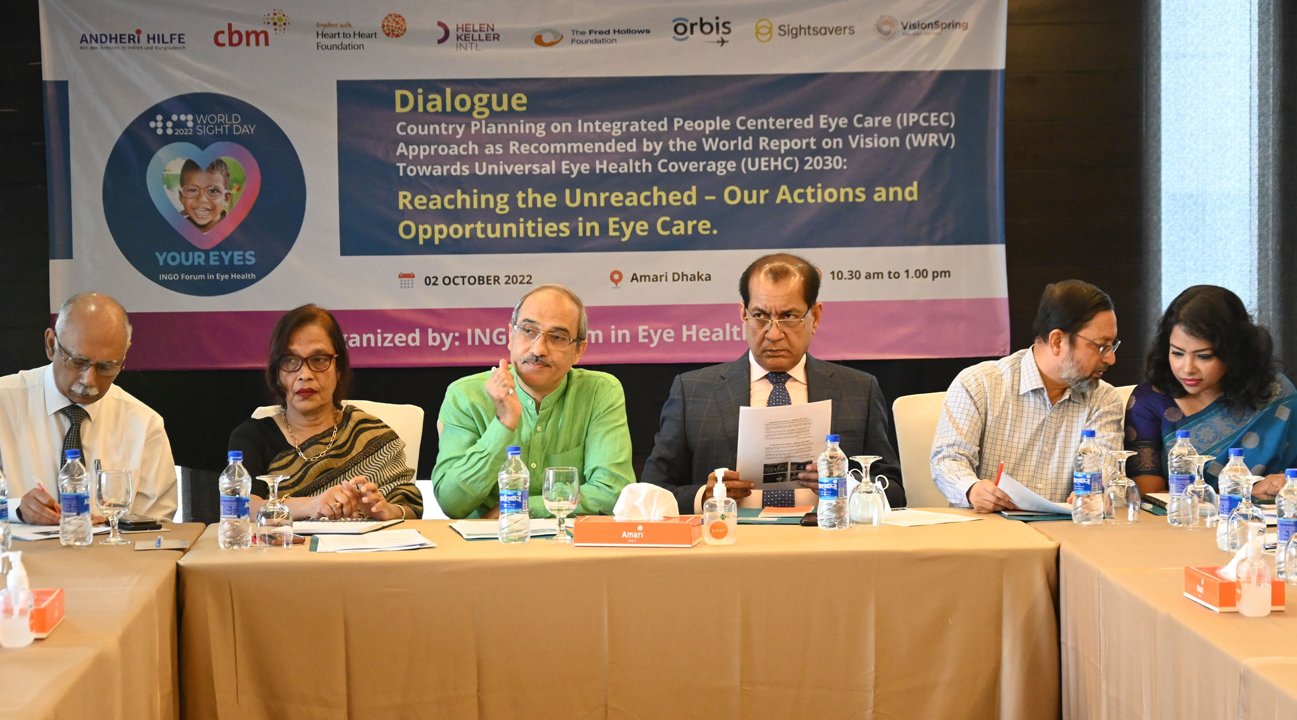 Amrita Rejina Rozario called for the decentralisation of eye care policy, district-level planning, constitution of national and district-level task forces on universal eye health coverage care, and strengthening of district-level hospitals in terms of deploying trained ophthalmologists/workforce, supplies and equipment for better service delivery.
She said INGO Forum will work more collectively with relevant government departments and other actors in eye health.
Dr Aftab Uddin, Chairperson of Public Health Foundation, Dr Khaleda Islam, ex-Director of DGHS, Dr Naseer Chowdhury, DMP of NCDC at DGHS, Dr Golam Musfiqur, DPM of NEC, Dr Md Faruque Hossain and Dr Asif Iqbal from CBHC of DGHS, Dr Lutful Hussain, Associate Director and Iqbal Hossain, Senior Program Manager of Orbis International, AKM Badrul Huq, Porgram Manager of Fred Hollows, Dr Arif-Ur-Rahman, Program Manager of Hellen Keler, Peter K Yun and Uttam Kumar from Heart to Heart Foundation, and Dr Nafeesur Rahman, a disability and development consultant, also spoke at the dialogue and stressed on the inclusion issues in eye health.
The speakers highlighted the licencing problem eye care service providers across the country are facing and urged the authorities concerned to solve them in no time.
According to WHO Report on Vision, 1.1 billion people worldwide were living with vision loss in 2020 because they did not have access to eye care services. Another 2-3 billion people need access to services to optimise their vision and ability to function in society.